Welcome to the Official Website for the
Columbia Borough Fire Department!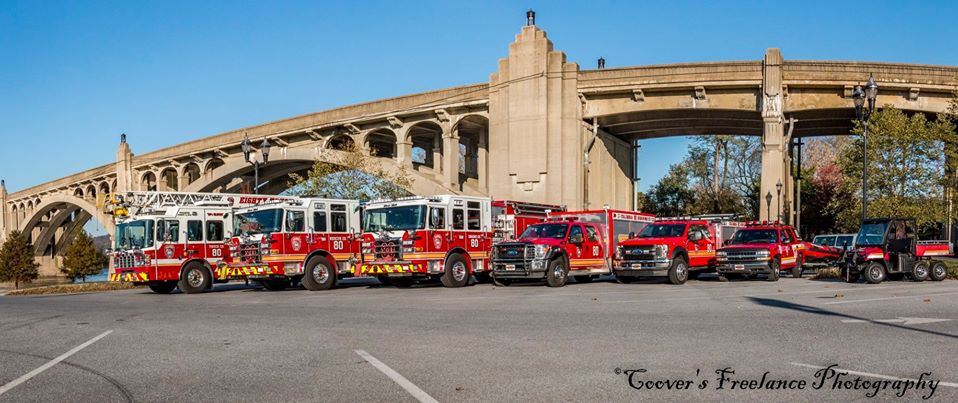 "The mission of the Columbia Borough Fire Department shall be to protect the lives and property of the citizens and visitors of the Borough of Columbia and neighboring communities from fire and other related emergencies or natural disasters. This public safety goal shall be achieved by providing professionally trained personnel educated in the areas of fire prevention, suppression, and tactical operations from the adverse effects of fire and rescue situations, or exposure to other hazardous conditions."
We are always looking for good men and women to join our team. Applications for membership are available at the station or you can Click here to download the membership application. You will need the Adobe Reader to view and print the application. Please read and fill out the application completely. Drop off your completed application at the station.

Volunteers Stay Busy to Start the Week

Columbia Borough Fire Department Station 80, September 19

Yesterday started off with the Rescue checking on a CO Detector sounding in an apartment building in the morning. Then just before lunch, the Rescue, Ladder, and Traffic assisted Rheems Fire Department with a house explosion in West Donegal Township. The last unit from 80 cleared over 5 hours from dispatch. Thank you to Rescue 41 and Tower 43 for covering the borough for us. The evening finished out ... (Full Story & Photos)


Another Busy Sunday

Columbia Borough Fire Department Station 80, September 17

Sunday started off as a busy one around the fire hall. Engine 80 returned shortly after 8am after providing coverage for Rohrerstown Fire Company while they were out of service for an event. Members began weekly maintenance checks along with administrative officers holding their weekly meeting. While Ladder 80 assisted Wrightsville Fire & Rescue Company 41 with a detail at their fire hall. Then at ... (Full Story & Photos)


Busy Weekend Continues for Volunteers

Columbia Borough Fire Department Station 80, September 11

Sunday brought 5 calls to the volunteers at Company 80. Just after midnight, Rescue 80 assisted Company with a industrial structure fire in Mount Joy Borough. The Rescue provided RIT until relieved, the Rescue was on scene for nearly 2 hours. Then just after 10am, the Rescue was sent into East Hempfield Township for a house fire. The fire was contained and the Rescue was released shortly after arriving. ... (Full Story & Photos)


Engine 80 Attends 100th Anniversary Parade for Bainbridge Fire Company

Columbia Borough Fire Department Station 80, September 09

Engine 80 attended the 100th Anniversary Parade for the Bainbridge Fire Company today. In addition to the parade, the volunteers answered 3 calls during the daylight. Traffic 80 assisted Company 76 with a crash in West Hempfield Township. The Rescue assisted EMS with a medical emergency in the borough. Then the Rescue and Engine responded to assist Company 90 with an environmental rescue in Manor ... (Full Story & Photos)

K9 Training with Sheriff's Office

Columbia Borough Fire Department Station 80, August 29

Today Boat 801, along with Blue Rock Regional Fire District, assisted the Lancaster County Sheriff's Office with K9 training. The dogs got to do some work around water and deployment from boats.... (Full Story & Photos)

Your feedback is important to us! Feel free to sign the guestbook.